HPV-Related Cancer Summit-2019
Thank you for a wonderful event!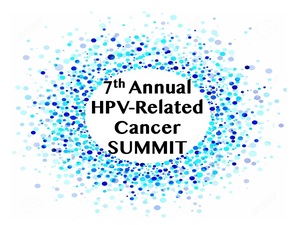 Summit Goals
To increase understanding of the HPV disease burden

To bring together providers who vaccinate with providers who treat HPV-related cancers

To highlight current early detection and screening guidelines/recommendations for HPV-related cancers that have such tests

To present and discuss the most current research on different HPV-related cancers and treatments, as well as innovative projects and strategies to reduce HPV-related cancer

---
8:30-9:00am
Registration/ Coffee and pastries

9:00-9:10am

Large group: Welcome and Historical Perspective—Eileen Lind, MSN, RN, CPNP

9:10-10:00am
Large group: Comprehensive HPV and Cancer Presentation—Elizabeth Kostas-Polston PhD, APRN, WHNP-BC, FAANP, FAAN
10:00-10:10am

Break

10:10-10:30am

Oral HPV Track

Personal story on Oral HPV: Melissa Gallagher

Cervical HPV Track

Personal Story on Cervical: Kate Weissman

10:30-11:30am
Dental Professional's Role in HPV prevention: Dr. Alessandro Villa
Risk Based Screening for Cervical Cancer: Dr. Rebecca Perkins
11:30-12:15pm
Oral Project highlight: Indian Health Service Project, Nathan Mork

Cervical Project highlight: Nancy Peña & Dr. Sarah Feldman

12:15-12:45
Lunch
12:45-1:15

Getting Involved in HPV/Cancer Prevention in MA

Video shorts and PSA screening/ Educating with Social Media
1:15-1:25

Large group: Presentation of the Sandra C. Labaree Volunteer Values Award by ACS—Korey Hofmann

1:25-2:00

Large group: Latest on HPV Vaccination—Elizabeth Kostas Polston

2:00-2:45
Large group: A Vaccine Confidence Success Story—Dr. Courtney Riley
2:45-3:00
Thank you and evaluations
Volunteer
Are you a medical professional or educator (current or retired) interested in outreach? Or a fundraiser, event planner, or web/social media guru looking for a way to make a difference? Email or call us! We also gladly accept students interested in community service hours for graduation or other requirements as volunteers at our events.
Bring Us to You
Invite us to your school, event, or organization to talk about cancer prevention. We are happy to offer our expertise at no cost for anywhere from a 30 minute talk to an 6 week program on sexual health and cancer prevention.
Be a Donor
Help support our progress with an in-kind or financial contribution. All donations are 100% tax deductible. Our federal tax identification number is 45-2473500.
MAKE A DONATION