Thursday, March 26, 2020
Team Maureen
Strike Out Cancer!
The Lanes Bowl and Bistro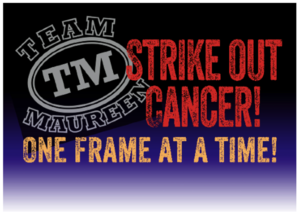 Mark your calendar for the night of crazy-fun and cancer prevention! Teams of 6 will compete on the lanes, and at the silent auction table, as they all raise money to support Team Maureen's mission.
Registration opens at 6pm. Bowling and dinner starts at 6:30 for the first heat, and the second heat starts at 7:30pm. Top teams advance to the finals and bowl at 8:30pm to determine the winners!
We always sell out, so don't miss your chance to register!
export this event to my calendar
Bowling Registration (pdf)Download both VIP and general registration forms here. Mail/text/email it to us at:PO Box 422, N. Falmouth, MA 02556. Text to 508-566-3610. Email to kelly@teammaureen.org
How to Donate (pdf)Can you donate to our silent auction or raffle? Or would you like to sponsor a lane? Download info here.