Coalition for HPV-Related Cancer Awareness
Join Us
To join, please fill out this very brief registration form with information about your organization/institution/medical center and interest in joining the coalition.
REGISTER
Contact Us
Team Maureen offers administrative support to the Coalition. Contact us at:

Kelly Welch, Executive Director
kelly@teammaureen.org
Phone: 508-566-3610

Eileen Duffey-Lind, Founder of Team Maureen
Pediatric Oncology Nurse Practitioner, Dana-Farber Cancer Institute
eileen@teammaureen.org
Phone: 617-632-3283

PO Box 422
North Falmouth, MA 02556
www.TeamMaureen.org
About the Coalition
What's our Purpose:
The Coalition's purpse is to bring together many partners to advance our shared mission. Membership is open to any person, organization, nonprofit, or institution interested in work surrounding HPV.
Our goal is to reduce the incidence of HPV and HPV-related cancer by increasing understanding of the connection between HPV and cancer, and by increasing statewide HPV vaccination rates.
Objectives:
Engage additional people and groups in HPV related cancer prevention work
Coordinate efforts among those working in HPV related cancer prevention to amplify the impact of our work
Educate medical providers about the HPV burden and connection to cancer, increase their skill in using evidence based strategies for talking to parents/patients about HPV; improve practice procedures to increase vaccination rates.
Education dental providers about their role in HPV prevention; increase knowledge of HPV disease burden; increase skill and comfort in discussing HPV with patients.
Educate the public (parents, families, students, others) about the HPV disease burden to decrease stigma and effect change in HPV vaccination rates.
Advocate and fundraise for HPV related Cancer prevention work
Support people and organization doing HPV related cancer prevention work across MA
Be a resource and model for collaboration across specialties to effect change.
.
The Coalition has partnered with Cervical Cancer-Free America to act as the Massachusetts chapter! By joining the Coalition, you are also becoming part of a nationwide effort to create a Cervical Cancer-Free America!
Why Join?

There is

no cost

or specified time obligations for members--our goal is to create a forum and collaborative in which our voices are all heard.

Free promotion

for your organization/institution/initiative--the Coalition website has been created as the first step in creating a single, centralized platform accessible to those most passionate about collaborating to achieve common goals, not just those with the most resources.
By

joining a network of like-minded organizations/institutions/advocates with the same goals

, you will inevitably be exposed to new initiatives, research developments, public information campaigns, and events that resonate most with your priorities.
Whereas a single entity may struggle in some aspects of their work--such as gaining the attention of policy makers and the public--

a coalition of many members strengthens the collective voice speaking up about HPV/Cervical Cancer.

We've seen this approach work on similar issues.

While this is a new undertaking for HPV/Cervical Cancer Awareness, building a coalition is a proven method for increasing awareness and generating results.
The Coalition is an independent professional association, whose founding members are comprised of: Team Maureen, the Dana-Farber Cancer Institute, the Massachusetts Department of Public Health, the Massachusetts Chapter of the American Academy of Pediatrics, the American Cancer Society-New England Division, and the Yellow Umbrella Organization. The hosting of the Coalition website has been donated by Team Maureen.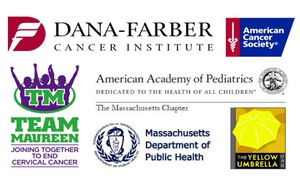 | | | |
| --- | --- | --- |
| MA League of Community Health Centers | Salem State University | Cape Cod Healthcare |
| 15-40 Connection | Oral Cancer Foundation | Boston Public Health Commission |
| Brigham and Women's Hospital | Pediatrics West | Boston Children's Hospital |
| Codman Square Health Center | UMass Memorial Children's Medical Center | Sociedad Latina |
| Blue Cross Blue Shield MA | Barnstable County Health Dept | Smiles By Rosie |
| Bershire AHEC | Pioneer Valley Urology | VNA Care Network & Hospice |
| Crown Obstentrics and Gynocology | Falmouth Pediatrics | MA Commission on the Status of Women |
| MA Caucus of Women Legislators | Boston Medical Center | |
Coalition Activities
Save the Date!!
Friday, December 1st
A meeting of The Massachusetts Coalition for HPV/and HPV-Related Cancers Awareness will be held on Friday, December 1st following the HPV and Cervical Cancer Summit at Dana Farber Cancer Institute. Mark your calendar!

Check back for a meeting agenda.



Did you know?
In the US, approximately 13,000 women are diagnosed with cervical cancer annually and about 30% of those diagnosed will die from it.1
Almost all cervical and anal cancer are caused by Human Papillomavirus (HPV).
HPV is the most common sexually transmitted infection in the USA.2
Annually, HPV causes about 34,800 cases of cancer of the tongue/tonsils/throat, cervix, anus, penis, vagina and vulva.3
Recent studies have shown that around 70% of cancers of the tongue/tonsils/throat may be linked to HPV.3
Many HPV-related cancers are essentially preventable with screenings and vaccination.
Cervical Cancer Awareness
Team Maureen's Outreach Campaign
OUR MISSION!

Team Maureen's mission is to end cervical cancer by educating about the HPV cancer connection and the importance of prevention and early detection.
HPV-Related Cancer Summit-2019
Registration now open!
Summit Goals
To increase understanding of the HPV disease burden

To bring together providers who vaccinate with providers who treat HPV-related cancers

To highlight current early detection and screening guidelines/recommendations for HPV-related cancers that have such tests

To present and discuss the most current research on different HPV-related cancers and treatments, as well as innovative projects and strategies to reduce HPV-related cancer

---
8:30-9:00am
Registration/ Coffee and pastries

9:00-9:10am

Large group: Welcome and Historical Perspective—Eileen Lind, MSN, RN, CPNP

9:10-10:00am
Large group: Comprehensive HPV and Cancer Presentation—Elizabeth Kostas-Polston PhD, APRN, WHNP-BC, FAANP, FAAN
10:00-10:10am

Break

10:10-10:30am

Oral HPV Track

Personal story on Oral HPV: Melissa Gallagher

Cervical HPV Track

Personal Story on Cervical: Kate Weissman

10:30-11:30am
Dental Professional's Role in HPV prevention: Dr. Alessandro Villa
Risk Based Screening for Cervical Cancer: Dr. Rebecca Perkins
11:30-12:15pm
Oral Project highlight: Indian Health Service Project, Nathan Mork

Cervical Project highlight: Nancy Peña & Dr. Sarah Feldman

12:15-12:45
Lunch
12:45-1:15

Getting Involved in HPV/Cancer Prevention in MA

Video shorts and PSA screening/ Educating with Social Media
1:15-1:25

Large group: Presentation of the Sandra C. Labaree Volunteer Values Award by ACS—Korey Hofmann

1:25-2:00

Large group: Latest on HPV Vaccination—Elizabeth Kostas Polston

2:00-2:45
Large group: A Vaccine Confidence Success Story—Dr. Courtney Riley
2:45-3:00
Thank you and evaluations
Volunteer
Are you a medical professional or educator (current or retired) interested in outreach? Or a fundraiser, event planner, or web/social media guru looking for a way to make a difference? Email or call us! We also gladly accept students interested in community service hours for graduation or other requirements as volunteers at our events.
Bring Us to You
Invite us to your school, event, or organization to talk about cancer prevention. We are happy to offer our expertise at no cost for anywhere from a 30 minute talk to an 6 week program on sexual health and cancer prevention.
Be a Donor
Help support our progress with an in-kind or financial contribution. All donations are 100% tax deductible. Our federal tax identification number is 45-2473500.
MAKE A DONATION